Extra 5% Off On Prepaid Orders
Product Highlights
Supports Muscle Strength
Helps to Improve Stamina
Better Endurance
Helps to Gain Muscle Mass
Physical & Mental Performance
View full details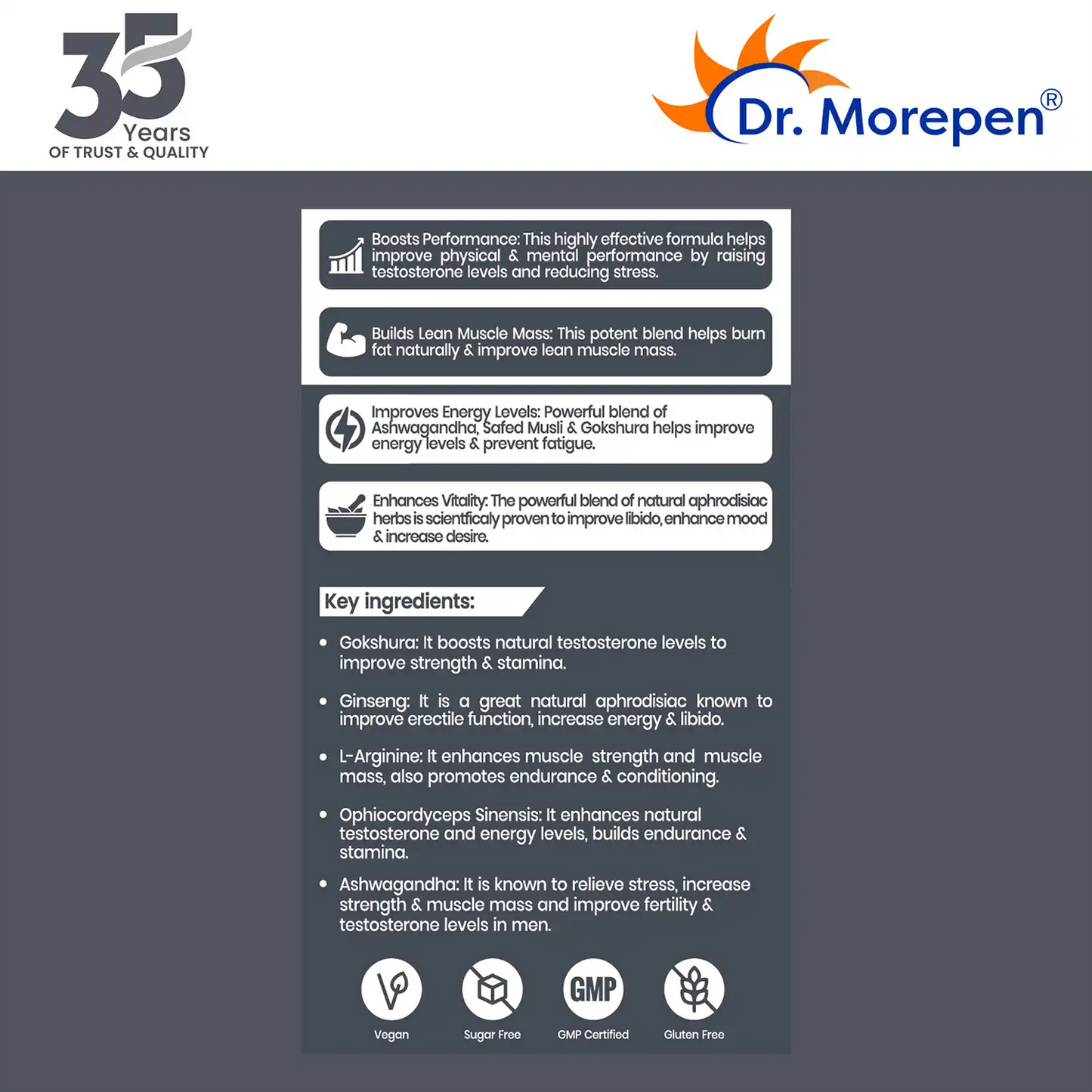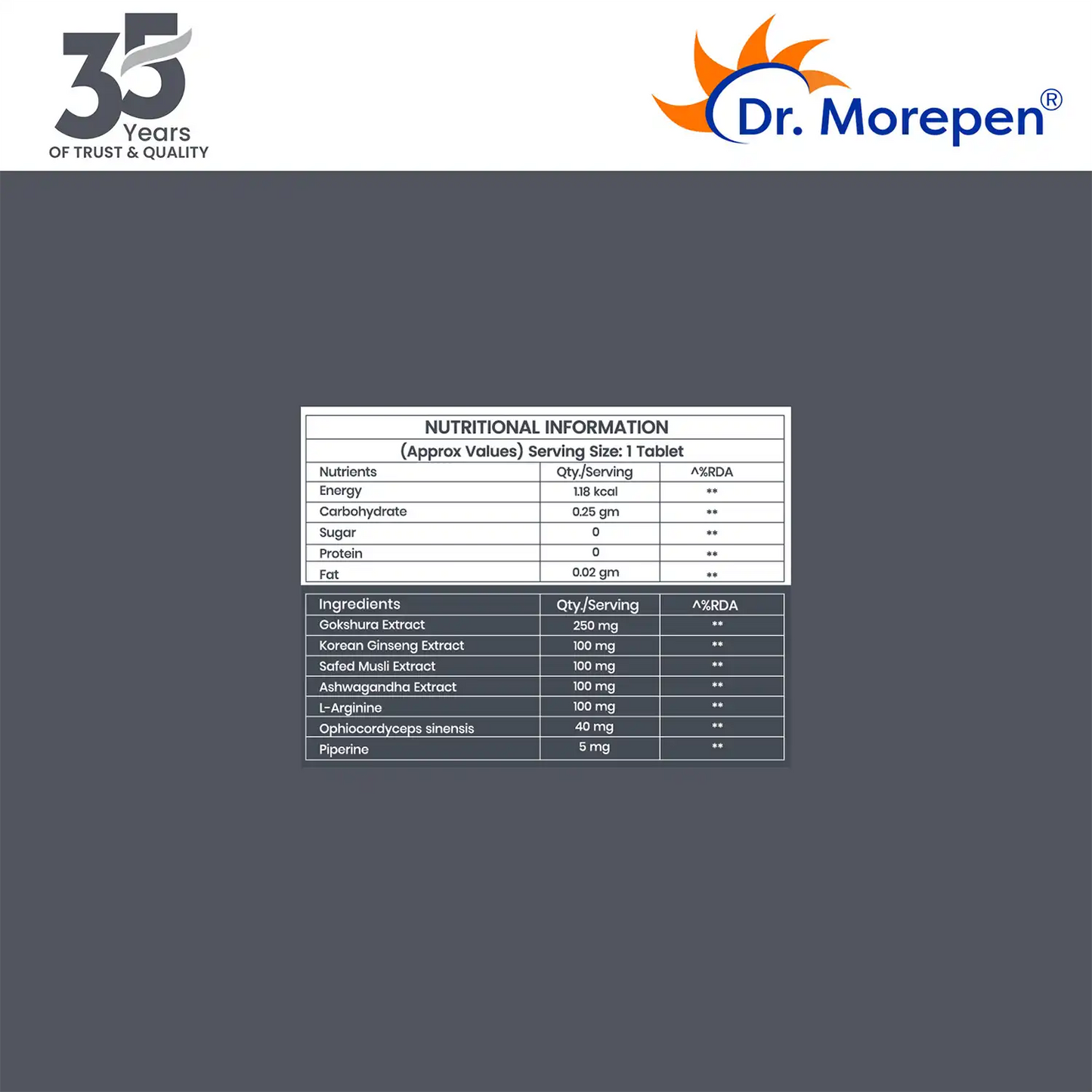 Product Description
As we all know Testosterone is the key hormone that is responsible for men's optimal health. Testosterone levels generally peak during adolescence & early adulthood. As you get older, your testosterone level started to decline gradually which leads to low energy levels, loss of muscle mass & strength, gain in weight, & decrease in bone density. Dr. Morepen Testo Boost is a testosterone booster supplement for men. It is a scientifically proven formula, enriched with ayurvedic herbs, amino acids, & energy boosters that naturally elevate testosterone levels to support endurance, strength, & stamina. The blend of powerful ingredients like Gokshura, Ginseng, Ashwagandha, L-Arginine & Ophiocordyceps Sinensis helps build lean muscle mass & improve metabolism. A safe & effective supplement to improve overall wellness.
Benefits
Supports Muscle Strength
Supports Physical & Mental Performance
Helps to Gain Muscle Mass
Helps to Improve Stamina:
Better endurance
For best results, take 2 tablet daily with a glass of water or as directed by a physician.
Keep out of reach of children.
Do not exceed the recommended dose.
Pregnant, lactating women and people with any medical condition should consult a physician before consuming.
This product is not intended to diagnose, treat, cure or prevent any disease.
Gokshura 250mg, Safed Musli 100mg, Ashwagandha 100mg, L arginine 100mg, Cordiceps 40mg,Piperine 5mg
COUNTRY OF ORIGIN: INDIA
MANUFACTURER'S ADDRESS: Bliss Lifesciences LLP, 15 Mangal Compound, Indore, M.P. India
MARKETER'S ADDRESS: Dr. Morepen Limited, Antriksh Bhawan, 22 K.G. Marg, New Delhi - 110001.
BRAND INFO: For Dr. Morepen, recognizing opportunity comes from recognizing needs! With the advent of busy lifestyles and the increasing awareness of wellness, it was imperative that the Indian consumers had the option of getting the finest self-health care products within reach. Little wonder that Dr. Morepen stepped in. Build on a trust of 35 years, Dr. Morepen offer the best quality Fast Moving Health Goods to its customers!
Dr. Morepen is a fully-owned subsidiary of Morepen Laboratories. A legacy of 35 years and continuing, Morepen Laboratories has brought some of the most trusted health products to you, recommended by doctors and accredited by international bodies. As a brand, Dr. Morepen has always preached the mantra "Health in Your Hands; with a pure vision of empowering individuals with solutions to take care of their own health and physical & emotional wellbeing.
About Us