Extra 5% Off On Prepaid Orders
Product Highlights
Builds immunity
Boosts stamina & energy levels
Provides anti-oxidant support
Improves muscle growth
View full details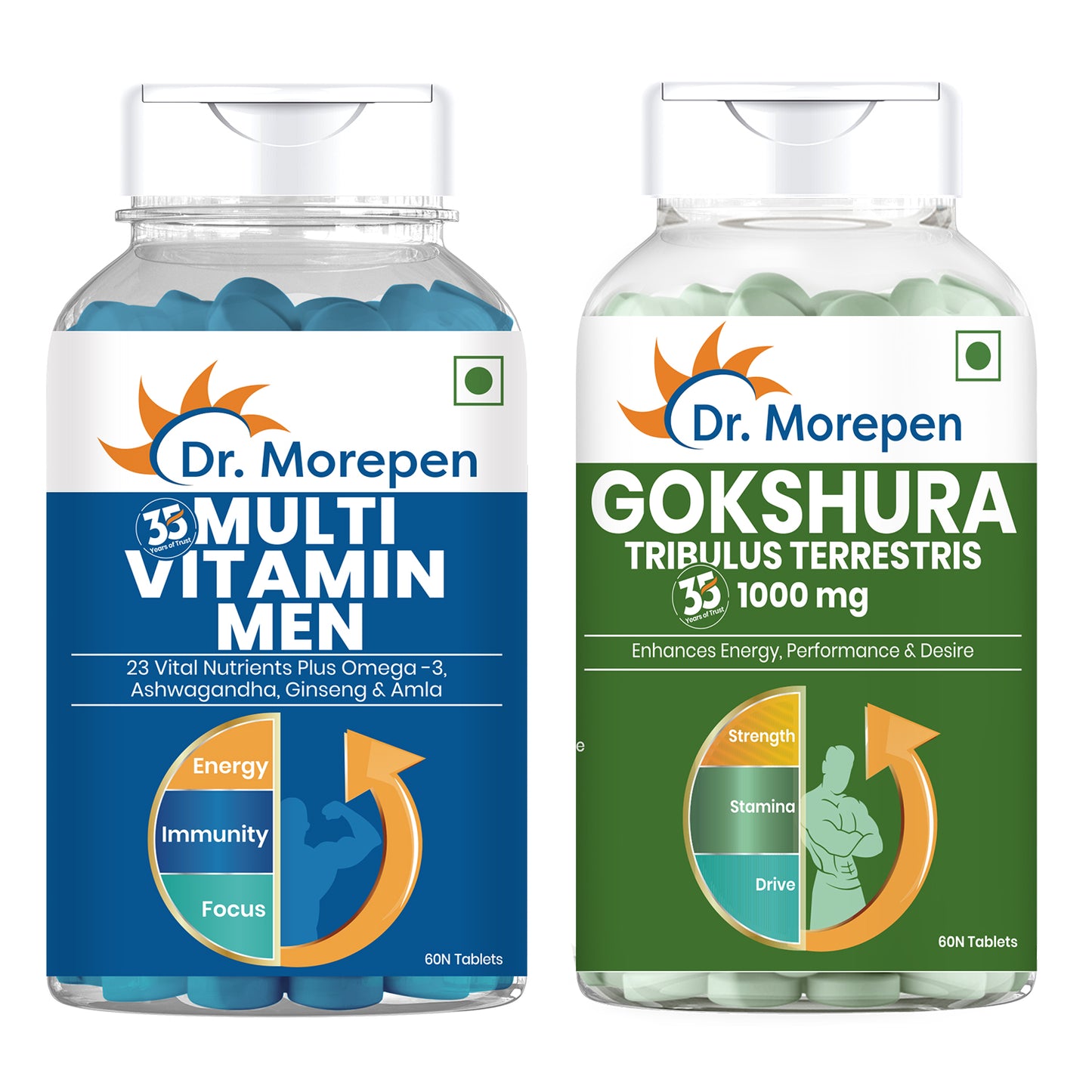 Product Description
Dr. Morepen Gokshura in a tablet, is an organic way to help improve sexual wellbeing and desire in men. This Ayurvedic herb has been used for over thousands of years to increase the level of natural endogenous testosterone in men by acting as a non-hormonal bio-stimulator. Our Multivitamin Tablets For Men is a sure shot supplement that compliments your daily work routine! It fulfils your body's needs from head-to-toe by providing Vitamin- B1, B2, B3, B6, B12, C, D2, E, Biotin (Vitamin-H) and Folic Acid (Vitamin B9) along with essential Minerals like Calcium, Iron, Zinc, Copper, Iodine, Manganese, Chromium, Magnesium etc. The tablets also contain the goodness of Omega-3, Inositol, Choline with Herbal Power of Ashwagandha, Safed Musli, Valerian, Kaunj, Ginseng and Akarkara Extracts.
Benefits
Gokshura - INCREASES DESIRE
BOOSTS-STAMINA
BONES-MUSCLES
STAMINA-ENERGY
Gokshura - Take 1 tablets a day, or as directed by your healthcare professional.
Multivitamin Men - 1 Tablet a day after meal or as suggested by your Dietician.
This product is not intended to Diagnose, Treat, Cure or Prevent Disease
Not to exceed recommended daily dosage
Keep out of reach of Children