Extra 5% Off On Prepaid Orders
Product Highlights
Natural Testosterone Booster
Helps to Improve Performance
Helps to gain Strength and Stamina
Helps to Boost Immunity
Helps to gain muscle mass
View full details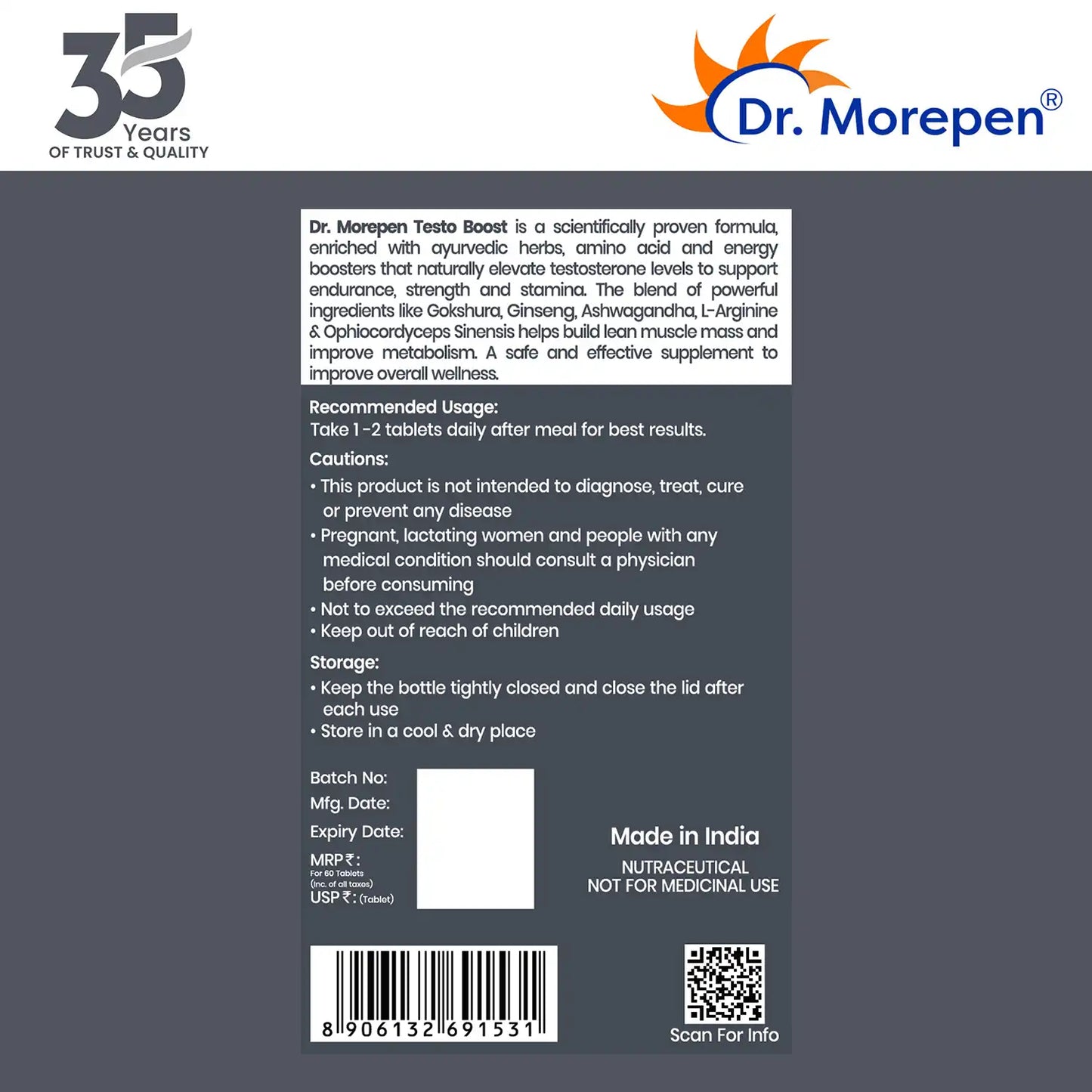 Product Description
Dr. Morepen's Gokshura and Testo Boosts Performance Combo
 is a Blend of Natural Herbs to support performance and build Strength & Stamina.Dr. Morepen brings to you, the Goodness of Traditional Herb – 
Gokshura in a Tablet
, an organic way to improve the physical performance, vitality, hormonal health, and overall well-being. This Ayurvedic herb has been used for over thousands of years to increase the level of natural endogenous testosterone in men by acting as a non-hormonal bio-stimulator. Try it today to support your everyday performance and energy levels.
Dr. Morepen's Testo Boost
is an ideal supplement for muscle gain
& strength. It fuels your body with stamina, muscle strength, recovery, confidence and endurance. Our Testo Boost supplement is enriched with 7 powerful ingredients such as Gokshura, Shilajit, Safed Musli, Ashwagandha, L-Arginine, Ophiocordyceps and Piperine.
Sustaining physical strength and stamina during workouts and post-workout muscle recovery are crucial for optimal performance and lean muscle mass gain. However, many men struggle to reach their fitness goals even after regular and strenuous workouts. Low testosterone levels may be the reason for low energy and low stamina.
The key ingredients such as Gokshura and Shilajit in our Testo Boost tablet make an ancient Ayurveda remedy to support strength, stamina, recovery, confidence, and endurance levels in men naturally. Shilajit, also known as 'the destroyer of weaknesses and is rich in vitamins, minerals, fluvic and humic acid, alongside essential amino acids. All these nutrients replenish the body and facilitate cell renewal in the body for the optimal muscle strength and lean muscle mass gain during workouts. L-Arginine is a naturally occurring amino acid that helps in increasing the blood flow in arteries and improving the athletic performance. Cordyceps helps in tolerance to high intensity exercise by enhancing the levels of oxygen utilization and blood flow.
Safed Musli and Ashwagandha in Dr. Morepen's Testo Boost Tablets are natural adaptogens and help to reduce the levels of stress-causing hormones, thus helping in mood upliftment and anxiety reduction during the workouts and steamy bedroom moments. Low testosterone levels not only affect your physical stamina but focus and cognition as well. Besides, these valuable nutrients in our ayurvedic supplement it also ensures heart and bone health for healthy living.
Every pack of Dr. Morepen's Testo Boost is certified and free from harmful chemicals and impurities
Benefits
AYURVEDIC SUPPLEMENT
BOOSTS MUSCLE BUILDING & PERFORMANCE
BALANCES FEMALE HORMONES
IMPROVES SEXUAL WELNESS
IMMUNITY BOOSTER
Gokshura - 1 Tablet Daily After Meal Or As Directed By Health Care Professional .
Testo Boost - 2 Tablet a day, or as directed by a healthcare professional
This product is not intended to Diagnose, Treat, Cure or Prevent Disease
Not to exceed recommended daily dosage
Keep out of reach of Children
Dr. Morepen is a fully-owned subsidiary of Morepen Laboratories. A legacy of 35 years and continuing, Morepen Laboratories has brought some of the most trusted health products to you, recommended by doctors and accredited by international bodies. As a brand, Dr. Morepen has always preached the mantra "Health in Your Hands; with a pure vision of empowering individuals with solutions to take care of their own health and physical & emotional wellbeing.
About Us
Give me one more week pls…
Rafi
For any further query you can reach us at 8527006992 from 9:30 am to 6pm (Monday to Friday)
Thanks
Team Morepen