Extra 5% Off On Prepaid Orders
Product Highlights
Improved strength
Better endurance
Urinary health
Hormonal balance
Muscle mass gain
View full details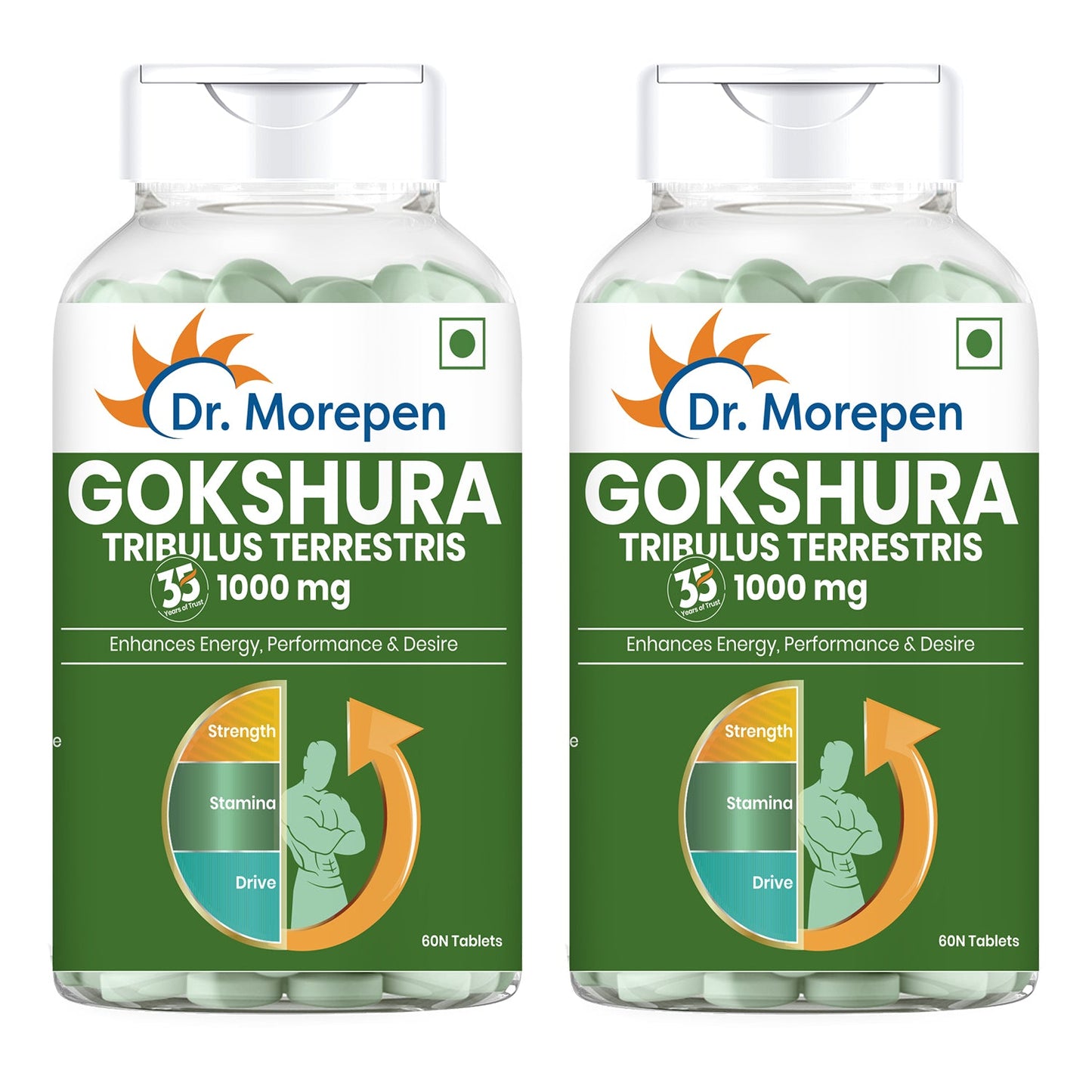 Product Description
Dr. Morepen's Gokshura tablets make a powerful supplement to fuel your body for improved hormonal balance, stamina, muscle strength, ovarian and urinary health. Our Gokshura tablets come enriched with premium-quality Gokshura (Tribulus terrestris) extract for optimal performance and health.
Gokshura makes an ancient ayurvedic remedy for men suffering from low testosterone. Valuable nutrients in the humble herb diligently lift up your testosterone levels for optimal workout endurance. Besides, key compounds in this herb help produce nitric oxide in the body to pace up your muscle mass gain journey. Also, a lift in testosterone helps maintain energy levels & stamina.
Our Gokshura tablets come fortified with essential amino acids, vitamins, minerals, and antioxidants our bodies require to stay healthy and active. Powerful antioxidants in our scientifically formulated Gokshura tablets pose cardioprotective effects on the body and lower the risk of cardiac maladies in both men and women.
Urinary problems such as kidney stones are not only discomforting but can lead to severe complications. Gokshura makes a wonderful diuretic and helps remove stone-forming salts in the body and prevent urinary infections alongside improving urinary health.
Benefits
Sexual Wellness
Better Endurance
Muscle Mass Gain
Hormonals Balances
Urinary Health
For best results, take 1 tablet daily with a glass of water or as directed by a physician.
Keep out of reach of children.
Do not exceed the recommended dose.
Store in a cool, dark place away from direct sunlight.
Dr. Morepen is a fully-owned subsidiary of Morepen Laboratories. A legacy of 35 years and continuing, Morepen Laboratories has brought some of the most trusted health products to you, recommended by doctors and accredited by international bodies. As a brand, Dr. Morepen has always preached the mantra "Health in Your Hands; with a pure vision of empowering individuals with solutions to take care of their own health and physical & emotional wellbeing.
About Us