Extra 5% Off On Prepaid Orders
Product Highlights
Youthful skin
Healthy hair
Stronger nails
Healthy bones and joints
Lean muscle mass gain
View full details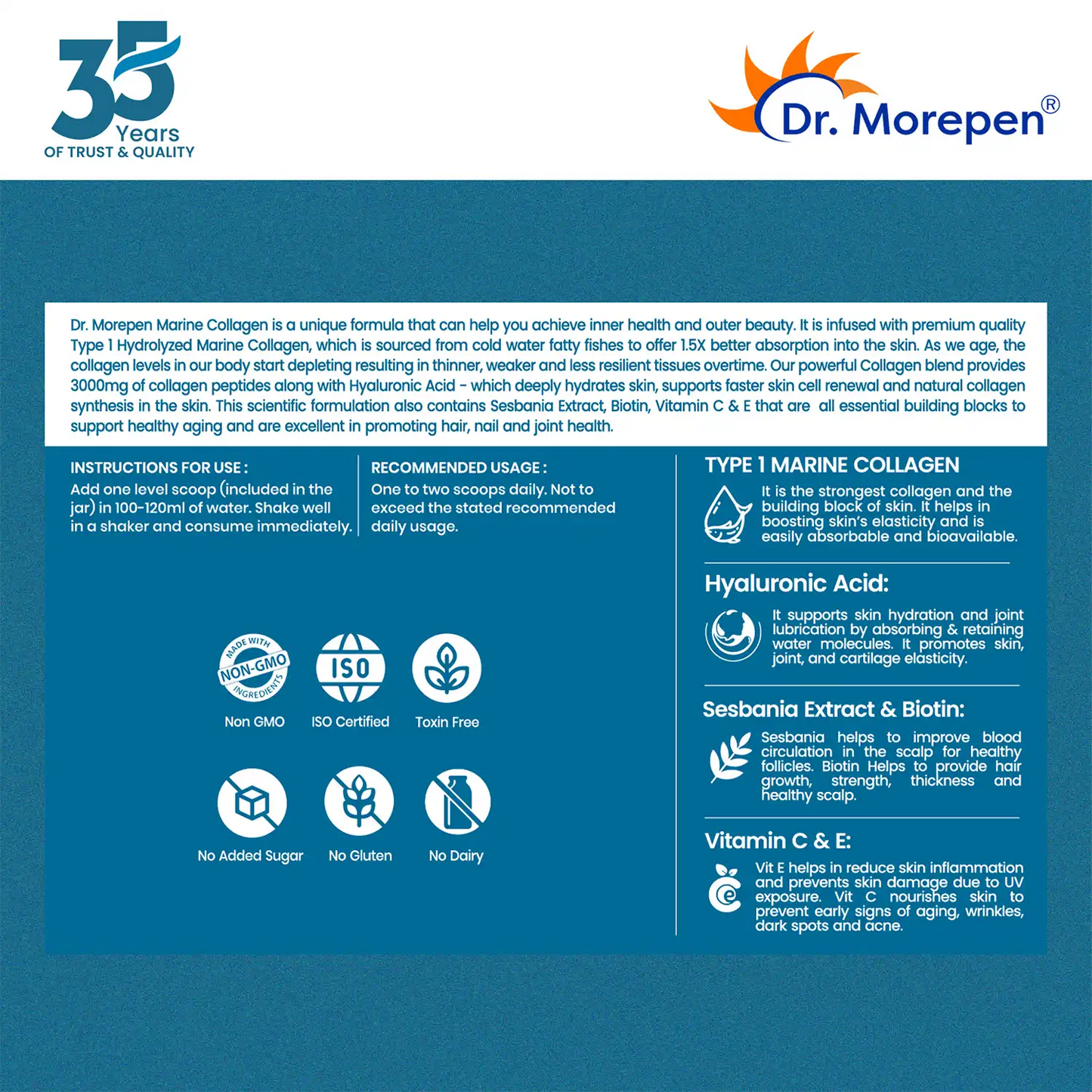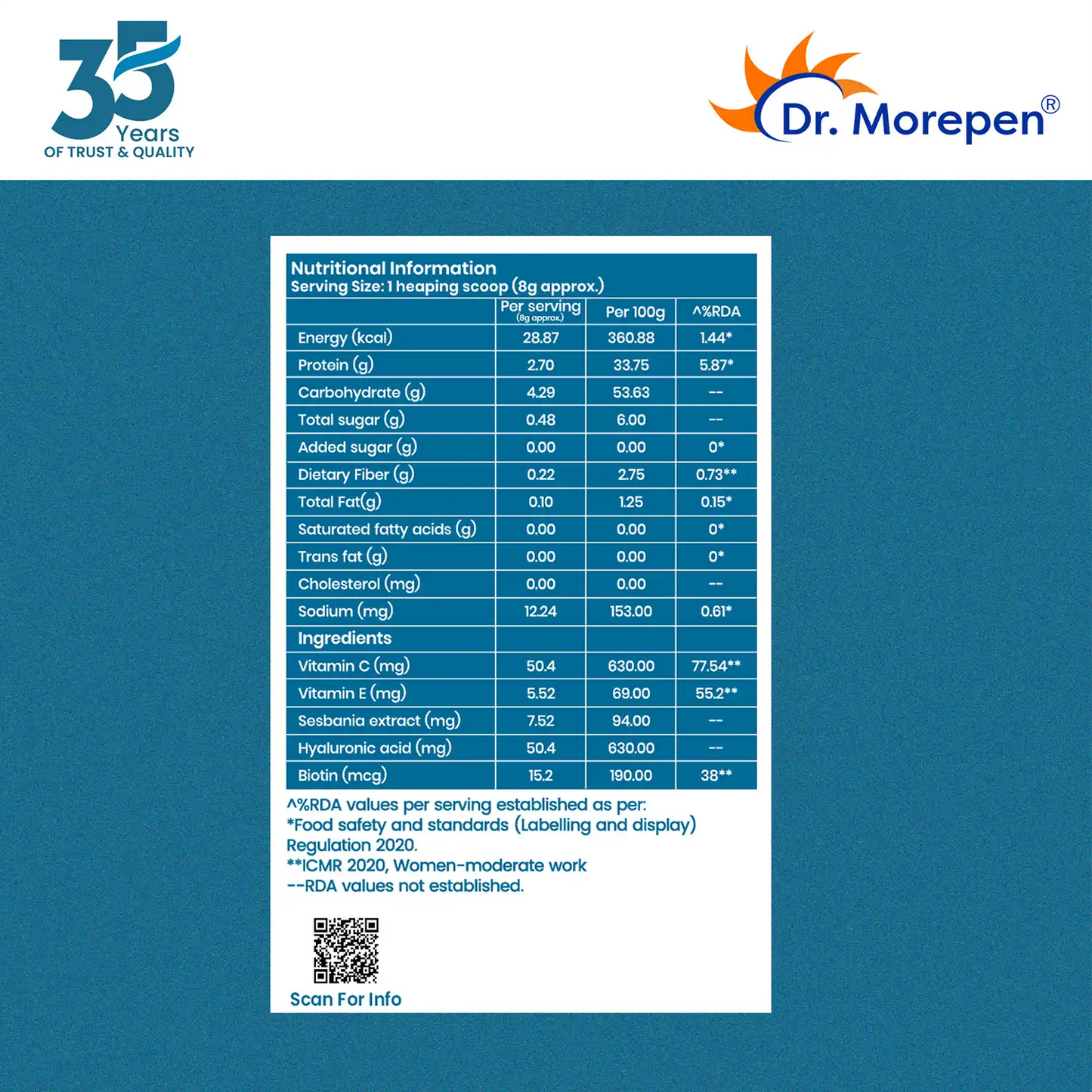 Product Description
Dr. Morepen introduces Marine Collagen Skin Protein for youthful skin, healthy hair, stronger nails, bones & joints. Our hydrolyzed and stevia-sweetened marine collagen comes enriched with the goodness of Hyaluronic acid, vitamin C, Sesabania extract, and biotin to provide you with a comprehensive solution to all your beauty and health woes. Collagen is the most abundant protein in the human body and type 1 collagen makes an infrastructural component of our skin, hair, nails, muscles, ligament, and tendons. As we age, the collagen stores in our bodies begin to deplete, thus causing saggy skin, wrinkles, brittle nails, thinning hairs, weak bones, and muscles, etc. Besides, a scarcity of collagen peptides can lead to poor digestion, weakened immunity, and increases the risk of chronic illnesses if left unaddressed for longer. Type 1 collagen peptides in our Marine Collagen Skin Protein help replenish the natural collagen reserves of the body to promote youthful skin by delaying the aging process. Regular intake of Marine collagen helps in cell renewal and repair elastin protein fibres that help maintain skin elasticity and prevent wrinkles& sagging skin. Besides, natural humectants such as hyaluronic acid and biotin in our marine collagen powder deep moisturise the skin and promote soft, supple, and glowing skin. As your body begins losing its collagen stores, your hair and nails may become unhealthy, thin, and weak. Unhealthy hair and brittle nails are not only unsightly but can be discomforting too. Our Marine Collagen Skin Protein supplement is enriched with Sesabania extract and biotin to boost hair growth and nail thickness altogether. Besides, our low-calorie and stevia-sweetened Marine collagen powder diligently fights free radicals, boosts immunity, and aids bone and muscle health. This hydrolyzed marine collagen is super easy to digest and reduces inflammation for overall health. Each pack of our chocolate-flavored marine collagen is free from impurities and heavy metals. Plus, it is certified, safe, and effective.
Benefits
Youthful skin
Healthy hair
Stronger nails
Bone & joint health
Lean muscle mass
For best results, mix one scoop of marine collagen in 120 ml of water and drink immediately.
Keep out of reach of children.
Consult a physician before use.
Do not exceed the recommended dose.
Store in a cool, dry place to maintain the freshness & quality of the product.
Serving Size 10gm: MUFA (g) 0.04 PUFA (g) 0.01 Saturated Fats (g) 0.08 Trans Fat (g) 0.02 Cholestrol (mg) 0.00 Ingredients Hydrolyzed Marine Collagen , Inulin (mg) 210.00 Vitamin C (as L Ascorbic Acid) (mg) 40.00 Vitamin E (as Alpha Tocopherol) (mg) 5.00 Biotin (mg) 0.015 Resveratrol (g) 0.15 Sesbania Extract 0.2% (mg) 7.50 Hyaluronic Acid (HLA) (mg) 50.00
COUNTRY OF ORIGIN: INDIA
MANUFACTURER'S ADDRESS: Khasra 577/1, Village Dhar Dharochna, Tehsil Kot Bhalwal, Jammu - 181122 (J&K)
MARKETER'S ADDRESS: Dr. Morepen Limited, Antriksh Bhawan, 22 K.G. Marg, New Delhi - 110001.
BRAND INFO: For Dr. Morepen, recognizing opportunity comes from recognizing needs! With the advent of busy lifestyles and the increasing awareness of wellness, it was imperative that the Indian consumers had the option of getting the finest self-health care products within reach. Little wonder that Dr. Morepen stepped in. Build on a trust of 35 years, Dr. Morepen offer the best quality Fast Moving Health Goods to its customers!
Dr. Morepen is a fully-owned subsidiary of Morepen Laboratories. A legacy of 35 years and continuing, Morepen Laboratories has brought some of the most trusted health products to you, recommended by doctors and accredited by international bodies. As a brand, Dr. Morepen has always preached the mantra "Health in Your Hands; with a pure vision of empowering individuals with solutions to take care of their own health and physical & emotional wellbeing.
About Us