Extra 5% Off On Prepaid Orders
Product Highlights
Uplifts mood
Relieves stress
Boosts memory
Reduce fatigue
Supports brain health
View full details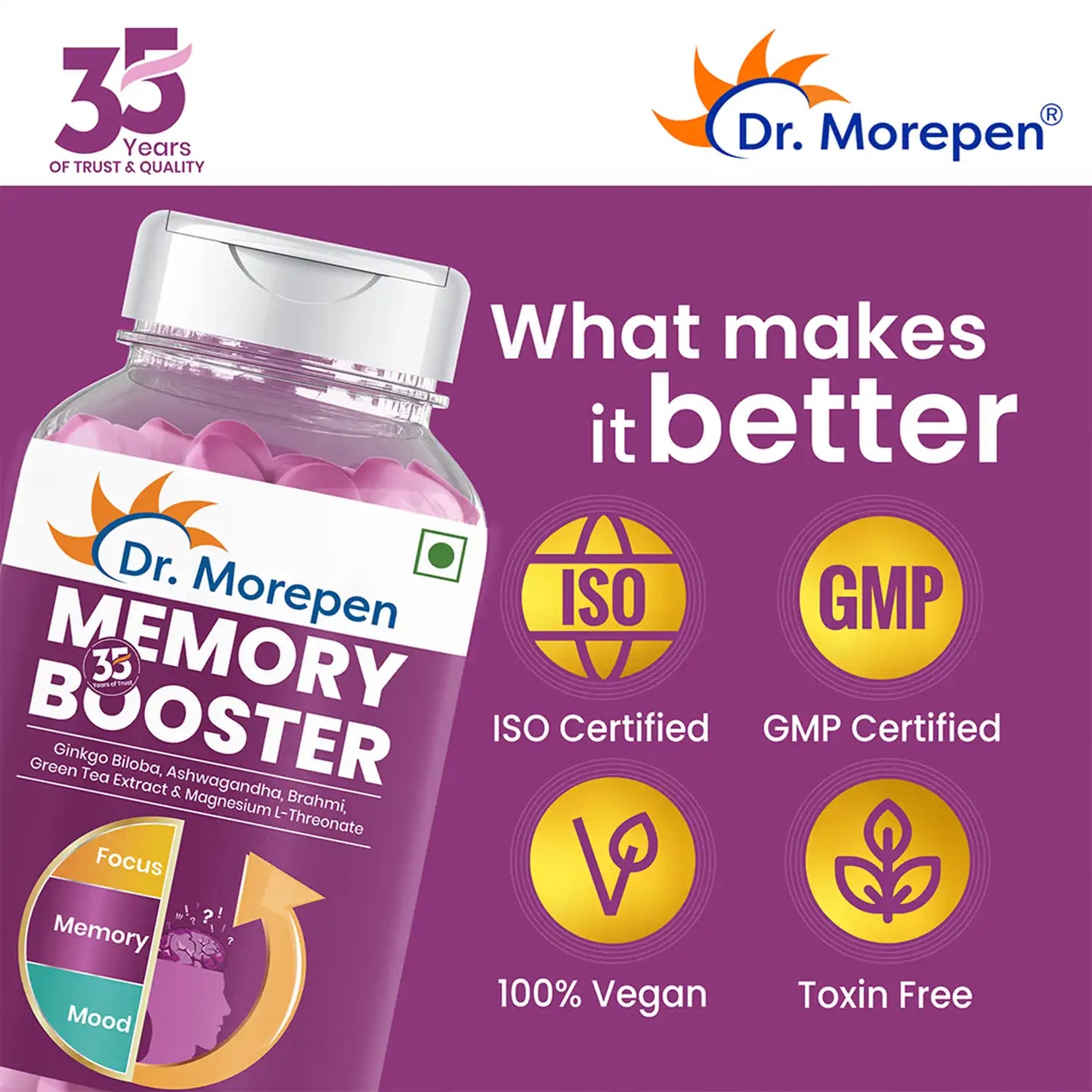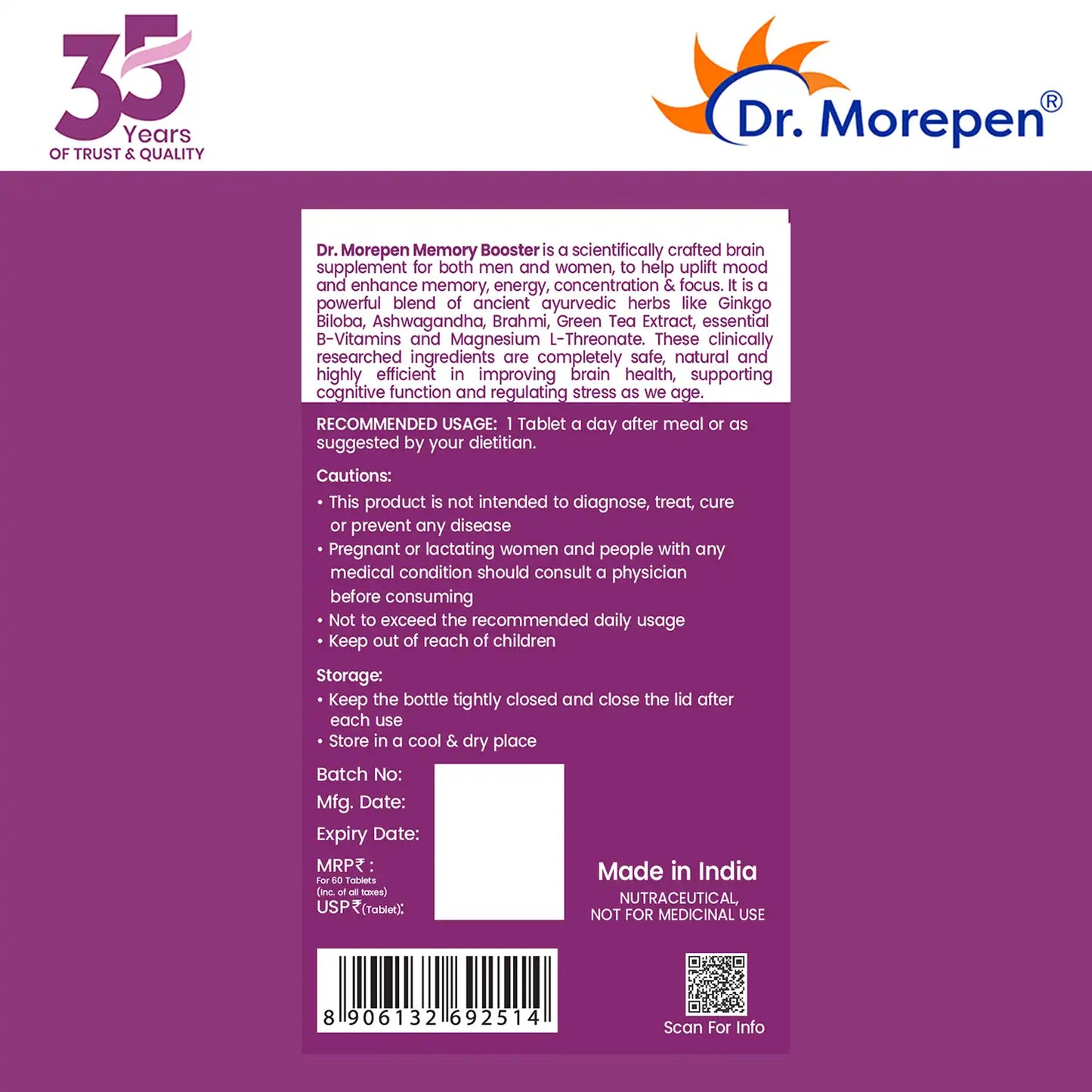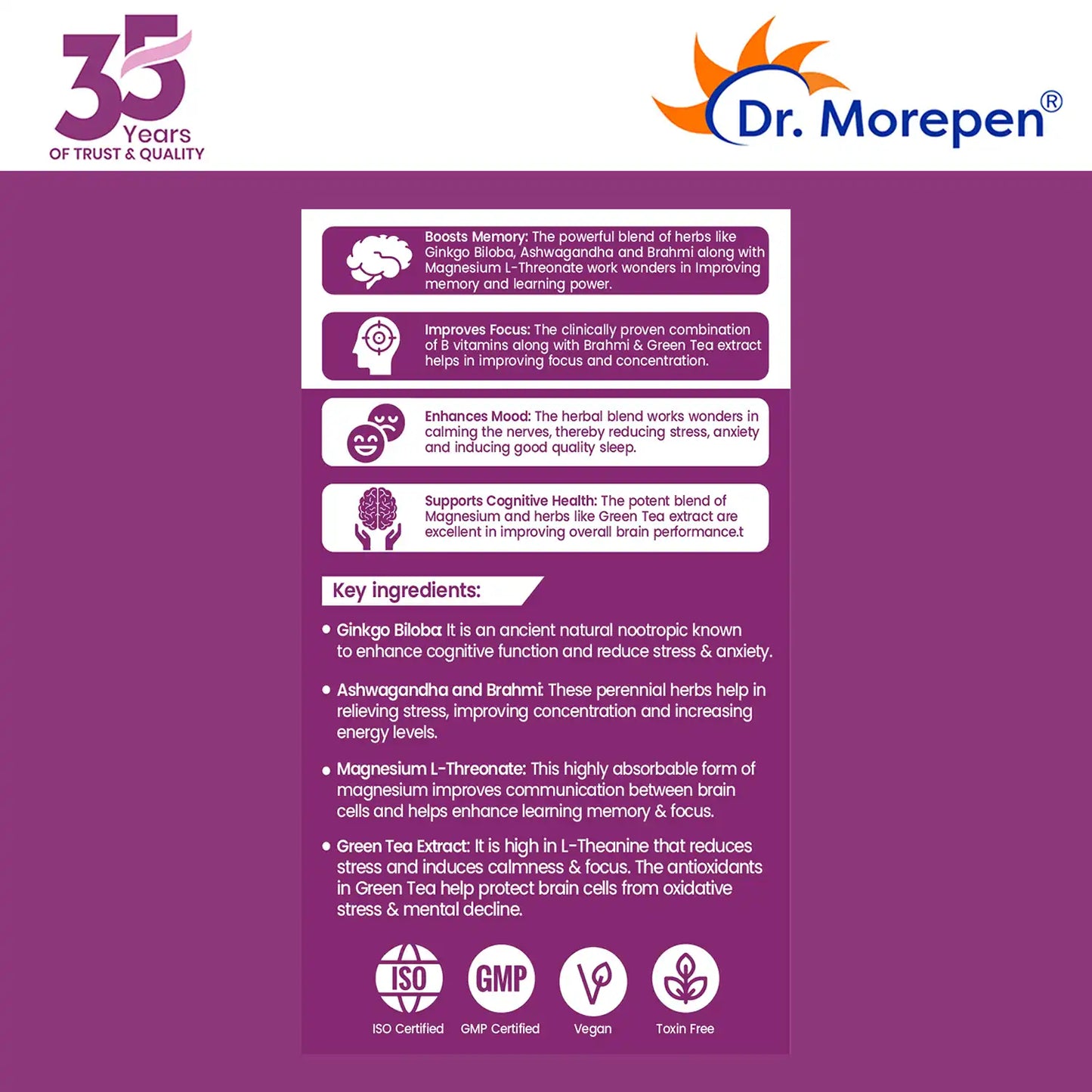 Product Description
In today's hectic life it's very important that our brain functions optimally, so that we give our 100%. But as we age problems like lack of cognitive function, memory and concentration relatively lowers the quality of daily life. To solve this problem Dr Morepen has launched Memory Booster a complete nutrition for active minds. Morepen's Memory Booster has a powerful combination of Ginkgo Biloba, Ashwagandha, Brahmi, Green Tea Extract with some essential B-vitamins & Magnesium L-Threonate, to help uplift mood & enhance memory, energy, concentration & focus.
Dr. Morepen's Memory Booster has a clinically proven combination of B vitamins that helps in ensuring the brain achieves its full potential & also helps to maintain the healthy nerve cells.
It has powerful blend of herbs like Ginkgo Biloba, Ashwagandha, Brahmi and, Green Tea along with Magnesium L-Threonate. Herbs like Ginkgo Biloba helps in improving thinking, learning & memory. Ashwagandha helps to enhance the function of the brain and nervous system, and also helps to improve the memory. Brahmi helps in reducing the symptoms of anxiety & mental fatigue, & helps in increasing the memory span. Green tea helps in nerve growth, & has antidepressant properties as well. Magnesium L-Threonate is important for brain health & supports healthy sleep, a calm mood, and relaxed muscles, and nerves. The entire blend helps in calming the nerves, thereby reduces stress, anxiety & induces a good quality of sleep.
All the ingredients in Memory Booster are clinically researched, completely safe, natural & highly efficient in improving brain health & cognitive function. The Dr. Morepen's Memory Booster has been made under the ISO & GMP Certified Plant. It's toxin free & suitable for vegans. Dr. Morepen has a legacy of 35 years admired for its quality, efficacy, affordability & accessibility of products.
Benefits
ENHANCES-FOCUS
HELPS-TO-BOOST-MEMORY
HELPS-TO-REDUCE-STRESS-ANXIETY
IMPROVES-LEARNING-POWER
IMPROVES-MOOD
SUPPORTS-COGNITIVE-HEALTH
Keep out of reach of children.
Do not exceed the recommended dose.
Store in a cool, dark place away from direct sunlight.
Seek medical advice before use if pregnant, lactating, or diagnosed with a medical condition.
Composition per Serving :
Ingredients : Ashwagandha extract 50 mg Brahmi extract 100 mg Magnesium as Magnesium Oxide 50 mg
COUNTRY OF ORIGIN: INDIA
MANUFACTURER'S ADDRESS: Bliss Lifesciences LLP, 15 Mangal Compound, Indore, M.P. India
MARKETER'S ADDRESS: Dr. Morepen Limited, Antriksh Bhawan, 22 K.G. Marg, New Delhi - 110001.
BRAND INFO: For Dr. Morepen, recognizing opportunity comes from recognizing needs! With the advent of busy lifestyles and the increasing awareness of wellness, it was imperative that the Indian consumers had the option of getting the finest self-health care products within reach. Little wonder that Dr. Morepen stepped in. Build on a trust of 35 years, Dr. Morepen offer the best quality Fast Moving Health Goods to its customers!
Dr. Morepen is a fully-owned subsidiary of Morepen Laboratories. A legacy of 35 years and continuing, Morepen Laboratories has brought some of the most trusted health products to you, recommended by doctors and accredited by international bodies. As a brand, Dr. Morepen has always preached the mantra "Health in Your Hands; with a pure vision of empowering individuals with solutions to take care of their own health and physical & emotional wellbeing.
About Us