Extra 5% Off On Prepaid Orders
Product Highlights
Youthful skin
Healthy hair
Stronger nails
Bone & joint health
Lean muscle mass
View full details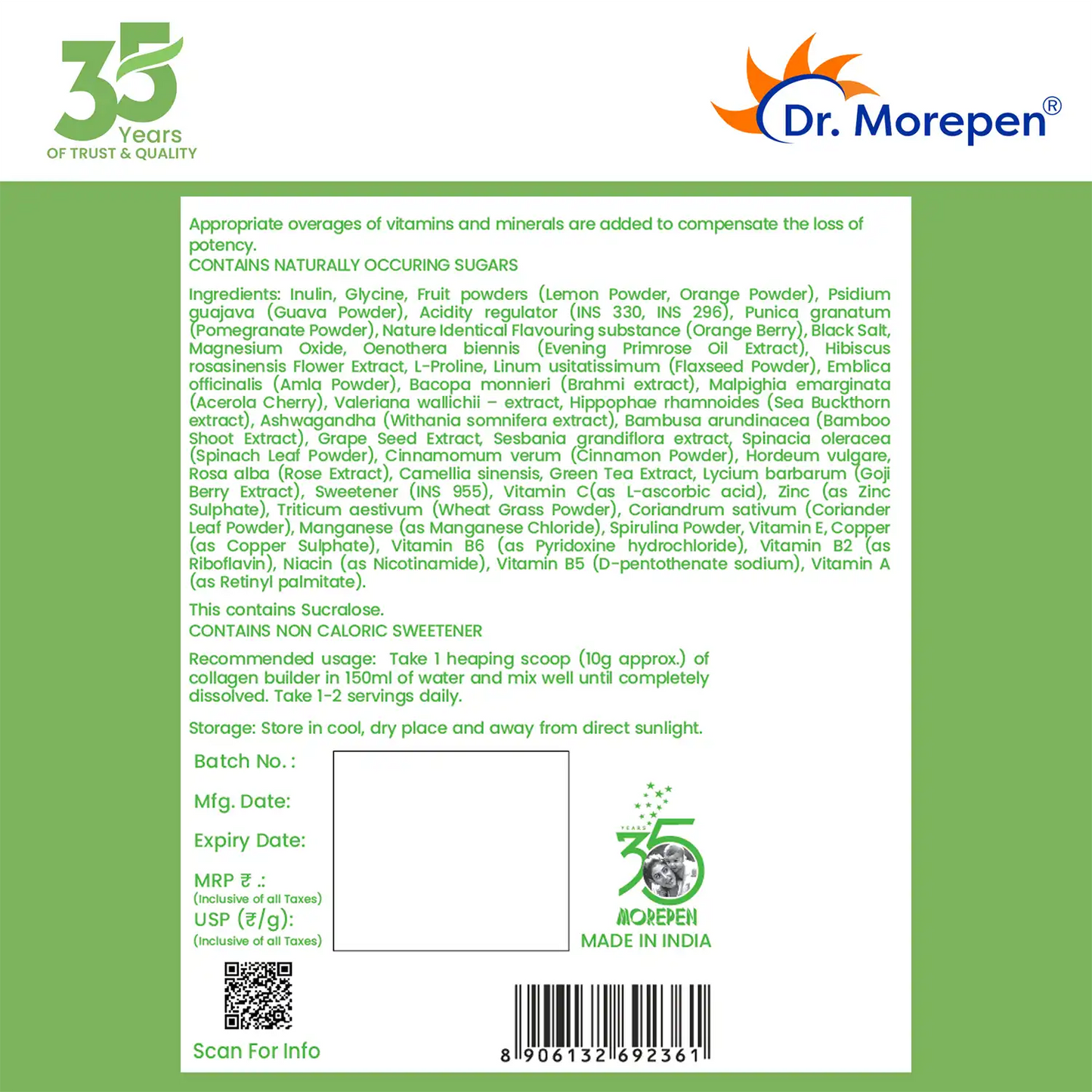 Product Description
Dr. Morepen presents Natural Collagen Builder for youthful skin, healthy hair, stronger nails, bones & joints. Our natural and vegetarian collagen builder comes enriched with the goodness of Hyaluronic acid, vitamin C, Bamboo shoot extract, and Biotin to provide you with a one-stop solution for all your beauty needs.
Collagen Protein in our bodies makes an infrastructural component and helps protect the skin against several problems such as wrinkles, dark circles, discoloration, sagging skin, and reduce visible pores & scars. But as we age, our bodies tend to lose a significant amount of collagen each year, leading to sagging skin, wrinkles, and black spots.
Our Natural Collagen Builder is scientifically formulated to stimulate collagen synthesis in your body and reverse skin aging. It contains the goodness of Hyaluronic Acid, Vitamin C, Biotin, Copper, Bamboo Shoots, and Protein to aid cell renewal in the body to provide you with youthful, clear, and glowing skin.
With growing age, it's obvious for your body to start losing collagen which can lead to unhealthy hair and brittle nails. These problems are not only unsightly but can be discomforting too. Biotin in our Natural collagen builder supports quick hair growth and makes nails thick and healthy.
Besides, our low-calorie and chocolate-flavored Natural Collagen builder diligently fights free radicals, boosts immunity, and aids bone and muscle health. This multi-enzyme formula is super easy to digest and reduces inflammation for overall health.
Each pack of our chocolate-flavored natural collagen builder is vegetarian, certified, safe, and effective.
Benefits
Youthful skin
Healthy hair
Stronger nails
Bone & joint health
Lean muscle mass
For best results, mix 18 gms of natural collagen builder in 200 ml of water and drink.
Keep out of reach of children.
Consult a physician before use.
Do not exceed the recommended dose.
Dr. Morepen is a fully-owned subsidiary of Morepen Laboratories. A legacy of 35 years and continuing, Morepen Laboratories has brought some of the most trusted health products to you, recommended by doctors and accredited by international bodies. As a brand, Dr. Morepen has always preached the mantra "Health in Your Hands; with a pure vision of empowering individuals with solutions to take care of their own health and physical & emotional wellbeing.
About Us