Extra 5% Off On Prepaid Orders
Product Highlights
Healthy Heart
Stronger Bones
Improved Vision
Better Cognition
Improved Blood Circulation
View full details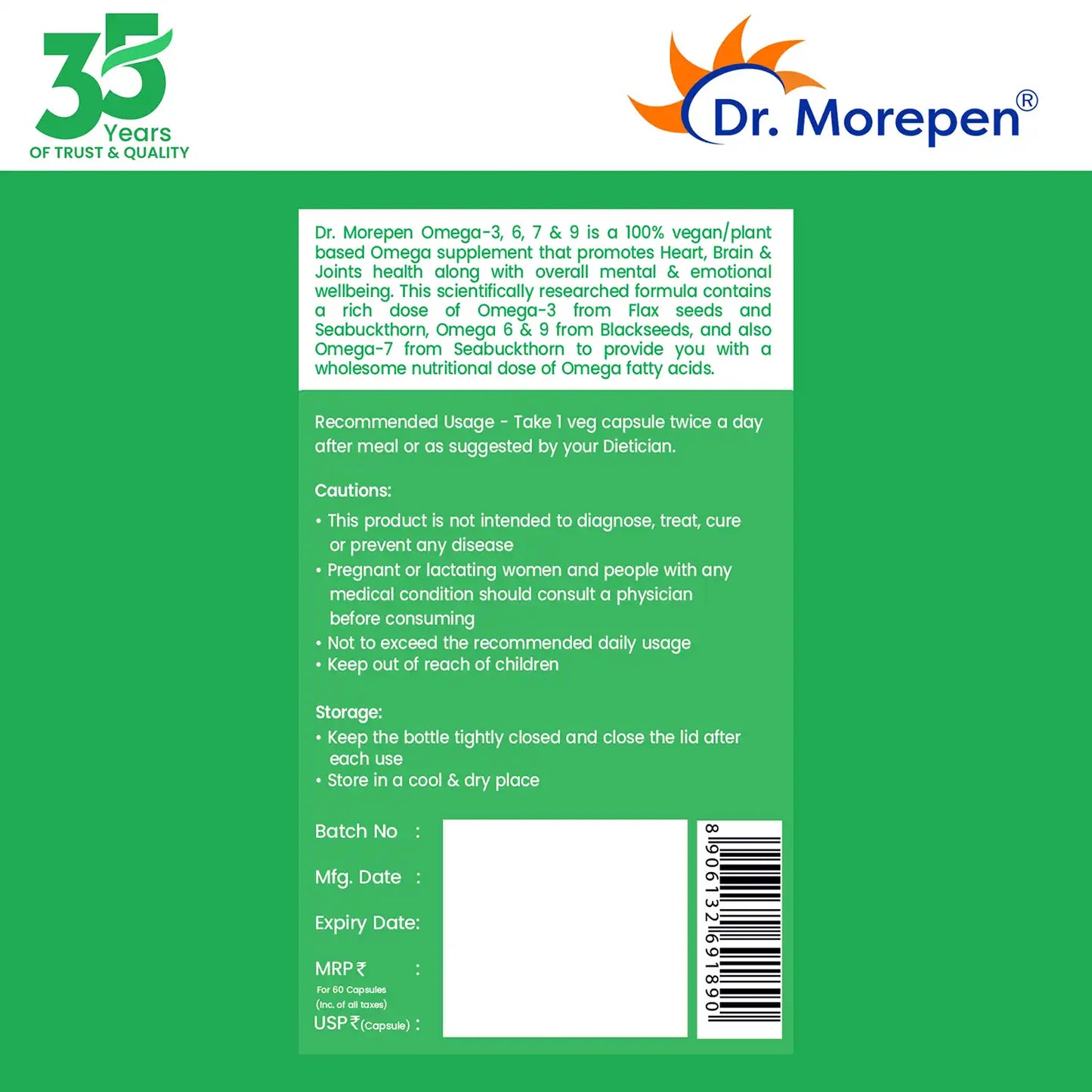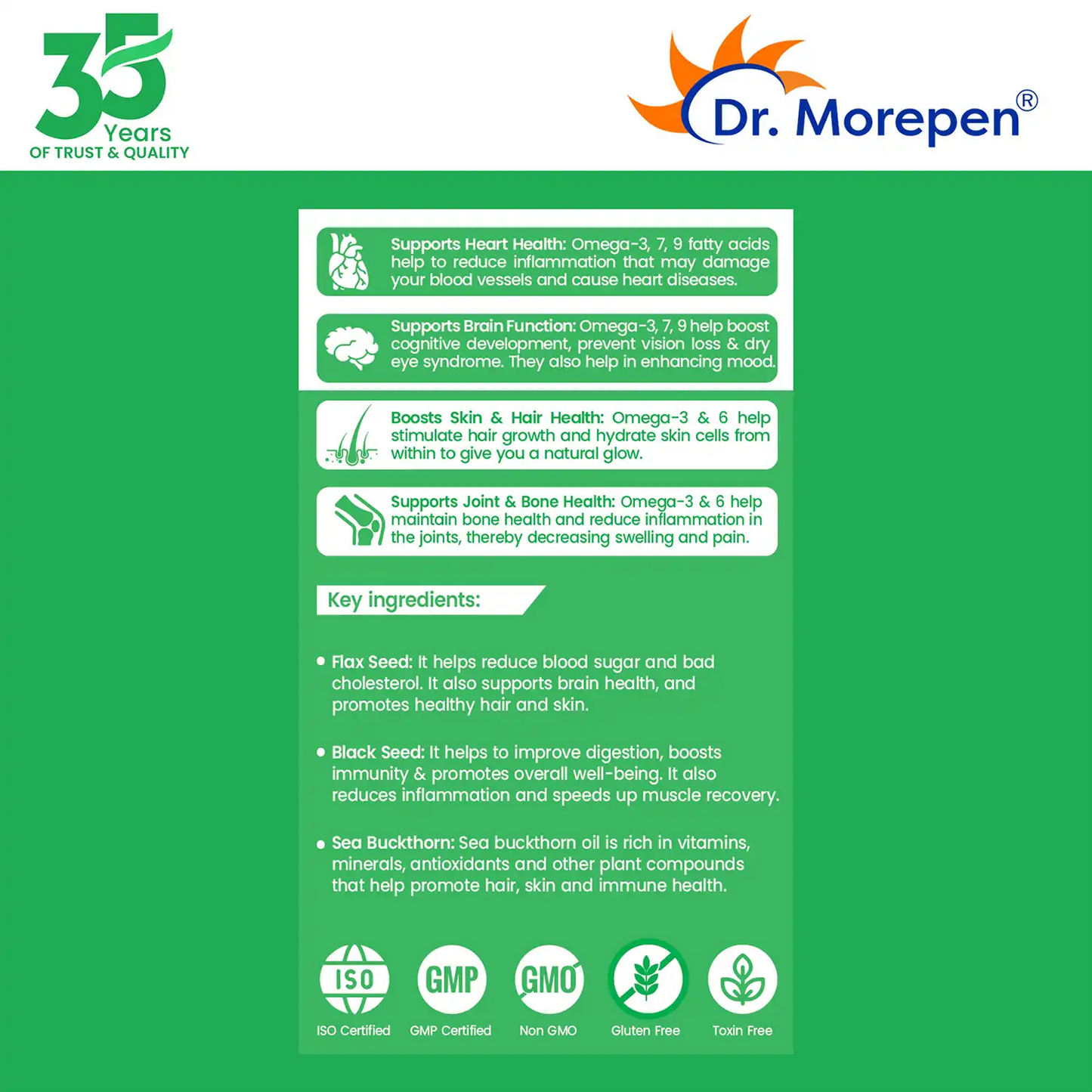 Product Description
Dr. Morepen's vegetarian Omega-3-6-7-9 capsules make a perfect supplement for vegetarians to nourish their bodies with essential Omega fats required by the human body to stay fit and healthy. Omegas are a group of essential fatty acids that our bodies synthesize in little amounts and we need to get plenty of them in the right balance of Omega-3-6-7-9 through diet or supplements for overall health.
Our Omega-3-6-7-9 capsules come enriched with premium-quality, omega-rich ingredients such as flax seeds, sea buckthorn, and black seeds. The flax seeds in our vegetarian supplement come brimming with alpha-linolenic acid (ALA). This valuable nutrient along with vitamins and minerals such as A, B, E, K, magnesium, and copper diligently reduce inflammation and lowers the levels of bad cholesterol in the heart. Besides, valuable nutrients in these humble seeds improve blood circulation in the body and regulate blood pressure. Sea buckthorn in this supplement prevents plaque deposition in the arteries and lowers the risk of serious cardiac maladies.
A high amount of healthy Omega-3 fatty acids are concentrated in the human brain and the retina in the eyes. A deficiency of these nutrients may lead to psychological problems such as age-related mental decline, brain fog, and memory problems. Black seeds or Nigella sativa seeds in our Omega supplement come enriched with thymoquinone, a potent antioxidant & anti-inflammatory compound. It diligently lowers neuroinflammation in the brain tissue and reduces the risk of psychotic disorders such as Alzheimer's, especially in the elderly, ensures proper brain signaling, and improves memory. Besies, these nutrients promote vision and prevent dry eyes.
Old age brings painful joints and weaker bones along. One of the prime contributors to painful joints is inflammation and muscle soreness. Sea Buckthorn in the supplement comes enriched with vitamin A, C, D, and K and valuable minerals such as magnesium, zinc, and copper. All these nutrients help reduce inflammation in muscles and joints. Besides, magnesium in the supplement aids optimal bone mineral density and makes bones stronger.
Apart from that, this scientifically proven, and vegetarian supplement is great for skin, hair, and overall health.
Benefits
Heart health
Better cognition
Stronger bones & muscles
Improved eyesight
Keep out of reach of children.
Consult a physician before use.
Do not exceed the recommended dose.
Store in a cool, dry place to maintain the freshness & quality of the product.
Flax Seed 250MG, Black Seed 150MG & Sea Buckthorn 100MG
COUNTRY OF ORIGIN: INDIA
MANUFACTURER'S ADDRESS: Ayurvedic Junction, 1st Floor, A 21 Tara Nagar, Jaipur, Rajasthan - 302012
MARKETER'S ADDRESS: Dr. Morepen Limited, Antriksh Bhawan, 22 K.G. Marg, New Delhi - 110001.
BRAND INFO: For Dr. Morepen, recognizing opportunity comes from recognizing needs! With the advent of busy lifestyles and the increasing awareness of wellness, it was imperative that Indian consumers had the option of getting the finest self-healthcare products within reach. Little wonder that Dr. Morepen stepped in. Build on a trust of 35 years, Dr. Morepen offers the best quality Fast Moving Health Goods to its customers!
Dr. Morepen is a fully-owned subsidiary of Morepen Laboratories. A legacy of 35 years and continuing, Morepen Laboratories has brought some of the most trusted health products to you, recommended by doctors and accredited by international bodies. As a brand, Dr. Morepen has always preached the mantra "Health in Your Hands; with a pure vision of empowering individuals with solutions to take care of their own health and physical & emotional wellbeing.
About Us
Omega-3-6-7-9 Vegetarian Capsules (60 capsules)
For any further query you can reach us at 8527006992 from 9:30 am to 6pm (Monday to Friday)
Thanks
Team Morepen