Extra 5% Off On Prepaid Orders
Product Highlights
Boosts Stamina
Uplifts Immunity
Intensify Workouts
Boosts Performance
View full details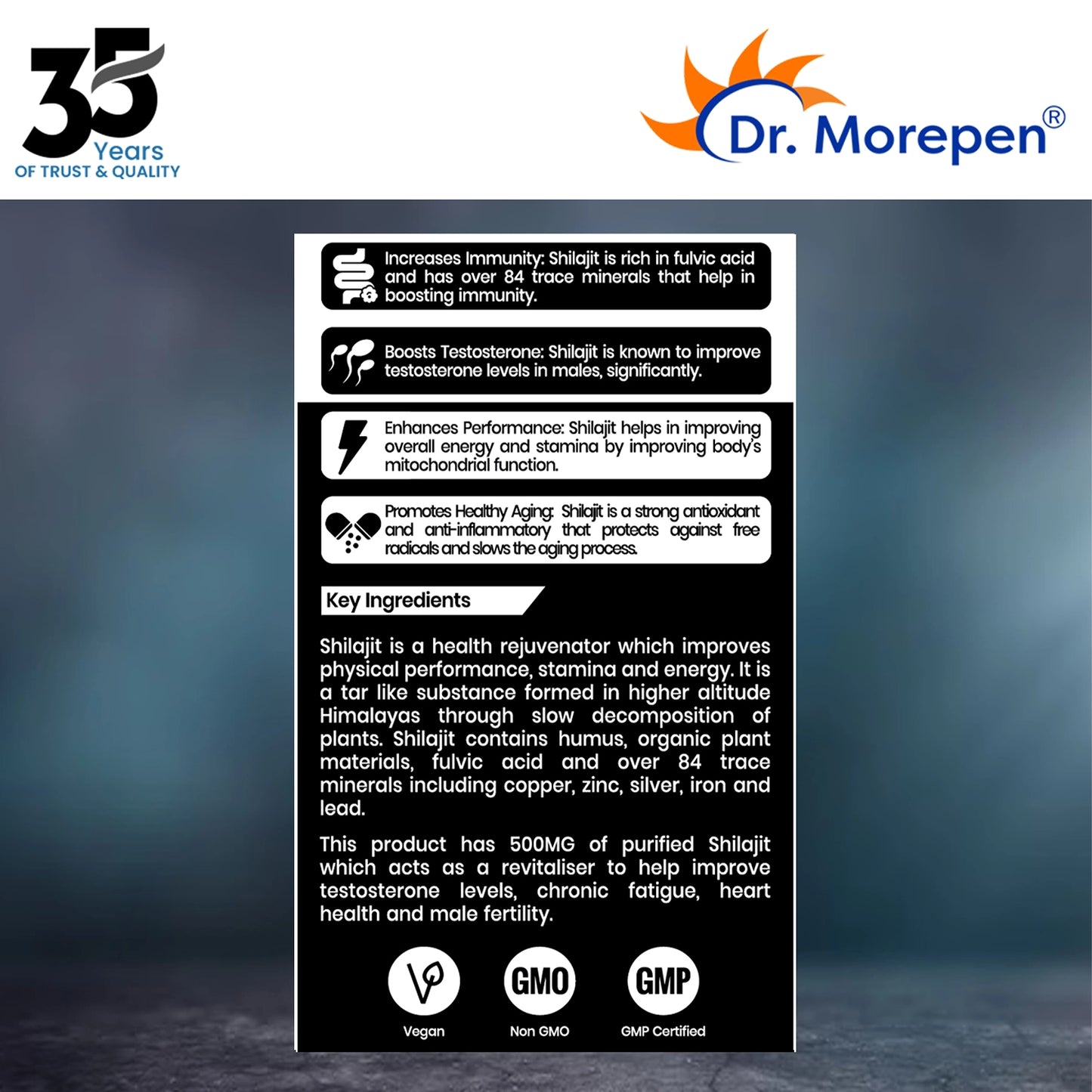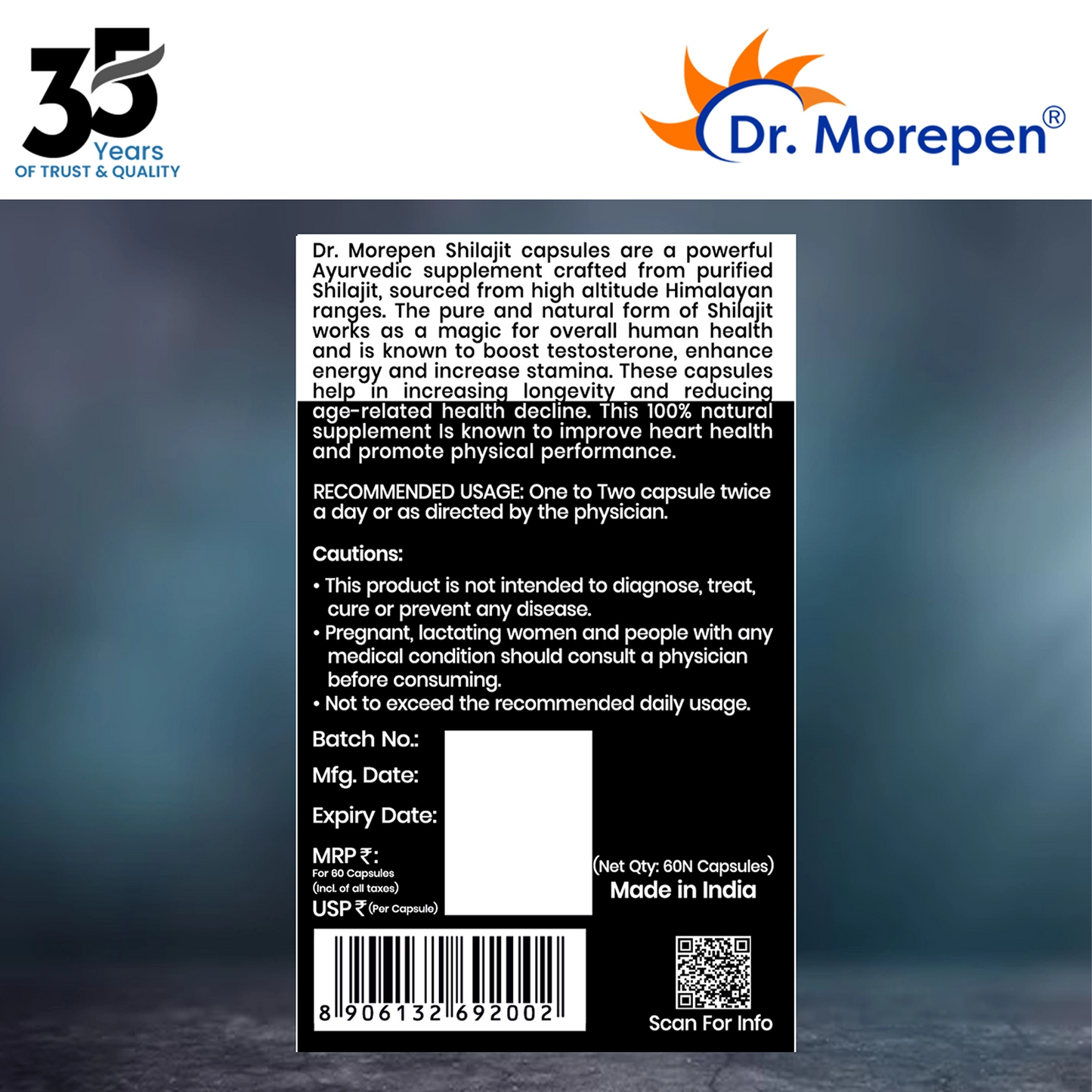 Product Description
Dr. Morepen's Shilajit capsules come enriched with ultra-pure, Himalayan Shilajit for optimal energy, stamina, and performance. Shilajit is a naturally occurring tar-like resin that contains more than 84 trace minerals, vitamins, antioxidants like fulvic and humic acid, and essential amino acids our bodies need to stay energized and healthy. This nutrient-packed resin diligently rejuvenates the body and makes a natural endurance enhancer for both men and women.
Nowadays, most of us struggle to sustain the much-needed energy and stamina all day long. Fatigue and exhaustion often occur when the mitochondria in your body cells don't produce enough energy. Our Shilajit capsules come power-packed with Fulvic and Humic acids that direct body cells to produce more energy to keep you charged and active throughout the day.
Besides, regular intake of Shilajit boosts testosterone levels in males, thus improving performance and muscle strength. If you're working out hard in the gym but not getting the desired lean muscle mass gain, probably your body needs an extra dose of testosterone. Supplementing with our Shilajit capsules regularly helps improve athletic endurance and keeps you fuelled for high-intensity weight training. Apart from that, an upliftment in testosterone in males diligently boosts performance.
Shilajit, also known as the destroyer of weakness is known worldover for its profound the rejuvenating properties. This potent rejuvenator fights free radicals in the body and prevent oxidative stress. Also, a wide array of vitamins, minerals, and amino acids in our Shilajit capsules aids cell renewal in the body and prevents premature aging. Apart from that, zinc, iron, and magnesium minerals in the naturally occuring resin aids bone mineral density and improves immunity for overall wellness.
Dr. Morepen's Shilajit capsules are tested and certified for effectiveness, purity, and safety.
Benefits
Improved energy
Recharges workouts
Boosts performance
Improves Immunity
For best results, take 1 capsule twice daily with a glass of lukewarm water.
Keep out of reach of children.
Consult a physician before using, especially if pregnant or breastfeeding.
Store in a dry, cool place and away from direct sunlight.
Shilajit extract (Asphaltum punjabiam) 500mg
COUNTRY OF ORIGIN: INDIA
MANUFACTURER'S ADDRESS: Maheshwari Ayurved Pvt Ltd, 41/19 Site-4, Sahibabad Industrial Area, Ghaziabad, U.P. - 201010
MARKETER'S ADDRESS: Dr. Morepen Limited, Antriksh Bhawan, 22 K.G. Marg, New Delhi - 110001.
BRAND INFO: For Dr. Morepen, recognizing opportunity comes from recognizing needs! With the advent of busy lifestyles and the increasing awareness of wellness, it was imperative that the Indian consumers had the option of getting the finest self-health care products within reach. Little wonder that Dr. Morepen stepped in. Build on a trust of 35 years, Dr. Morepen offer the best quality Fast Moving Health Goods to its customers!
Dr. Morepen is a fully-owned subsidiary of Morepen Laboratories. A legacy of 35 years and continuing, Morepen Laboratories has brought some of the most trusted health products to you, recommended by doctors and accredited by international bodies. As a brand, Dr. Morepen has always preached the mantra "Health in Your Hands; with a pure vision of empowering individuals with solutions to take care of their own health and physical & emotional wellbeing.
About Us
Shilajit Capsules Pack of 2 - Strength & Stamina Booster
For any further query you can reach us at 8527006992 from 9:30 am to 6pm (Monday to Friday)
Thanks
Team Morepen