Extra 5% Off On Prepaid Orders
Product Highlights
Promotes bone & joint health
Enhances strength & stamina
Builds immunity
Maintains testosterone level
View full details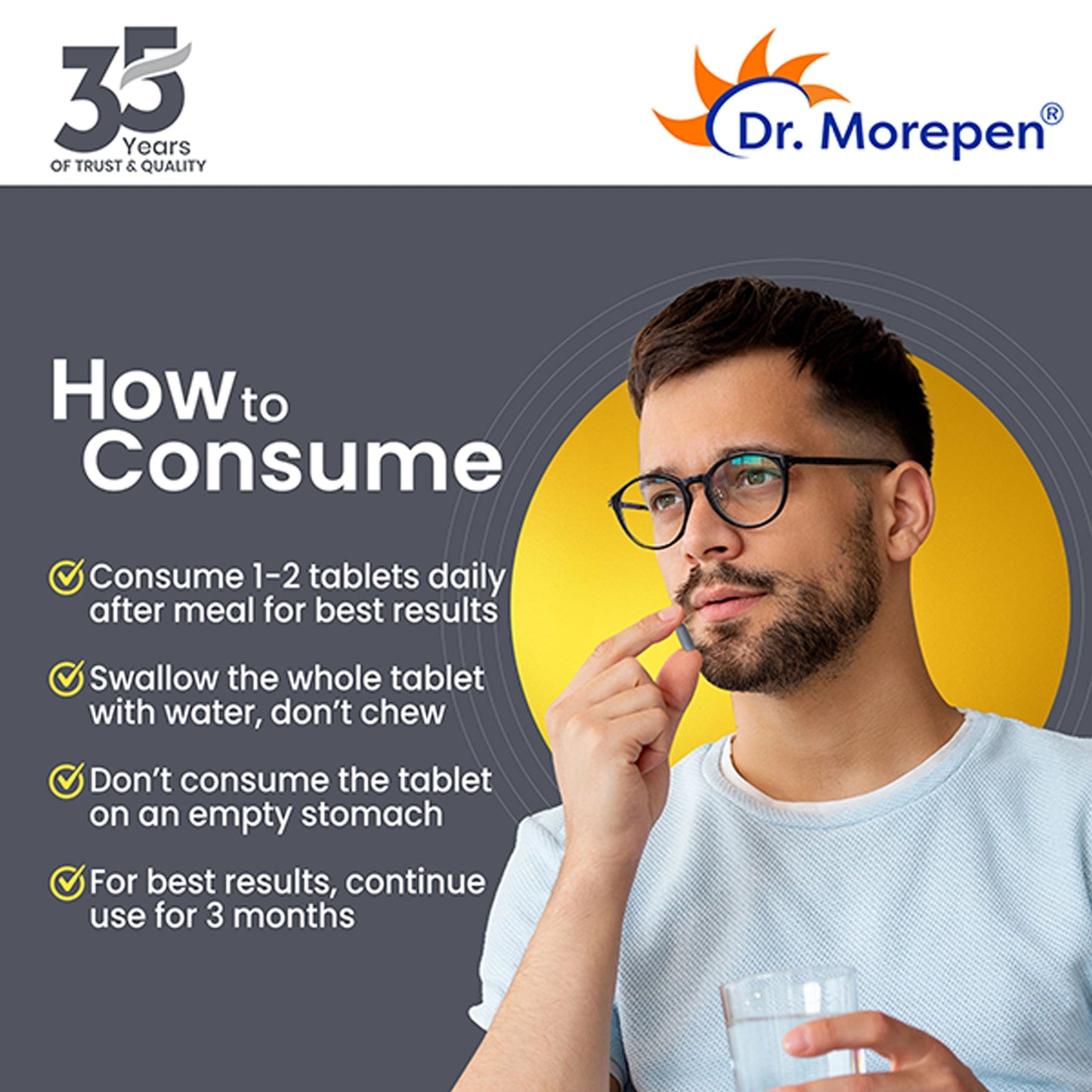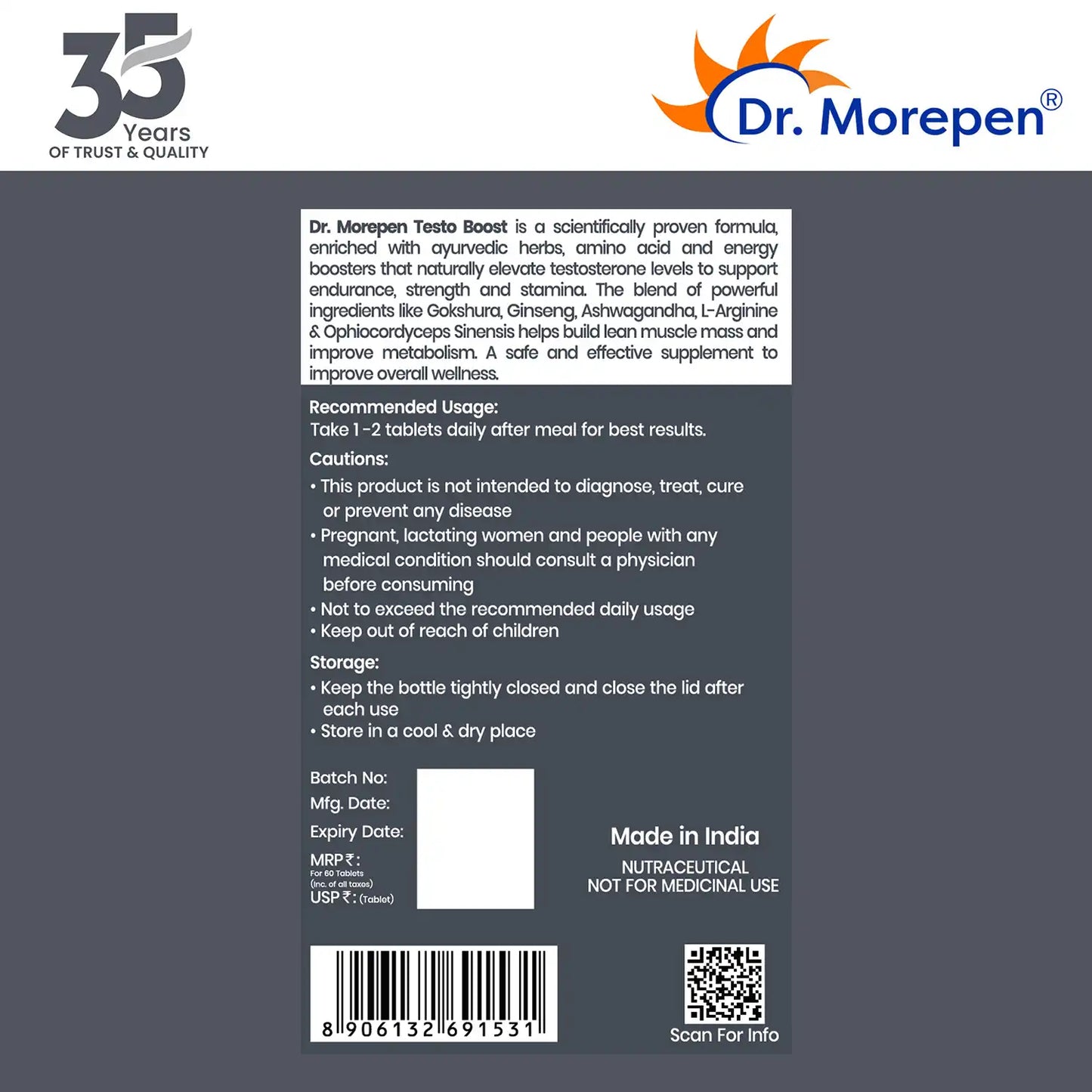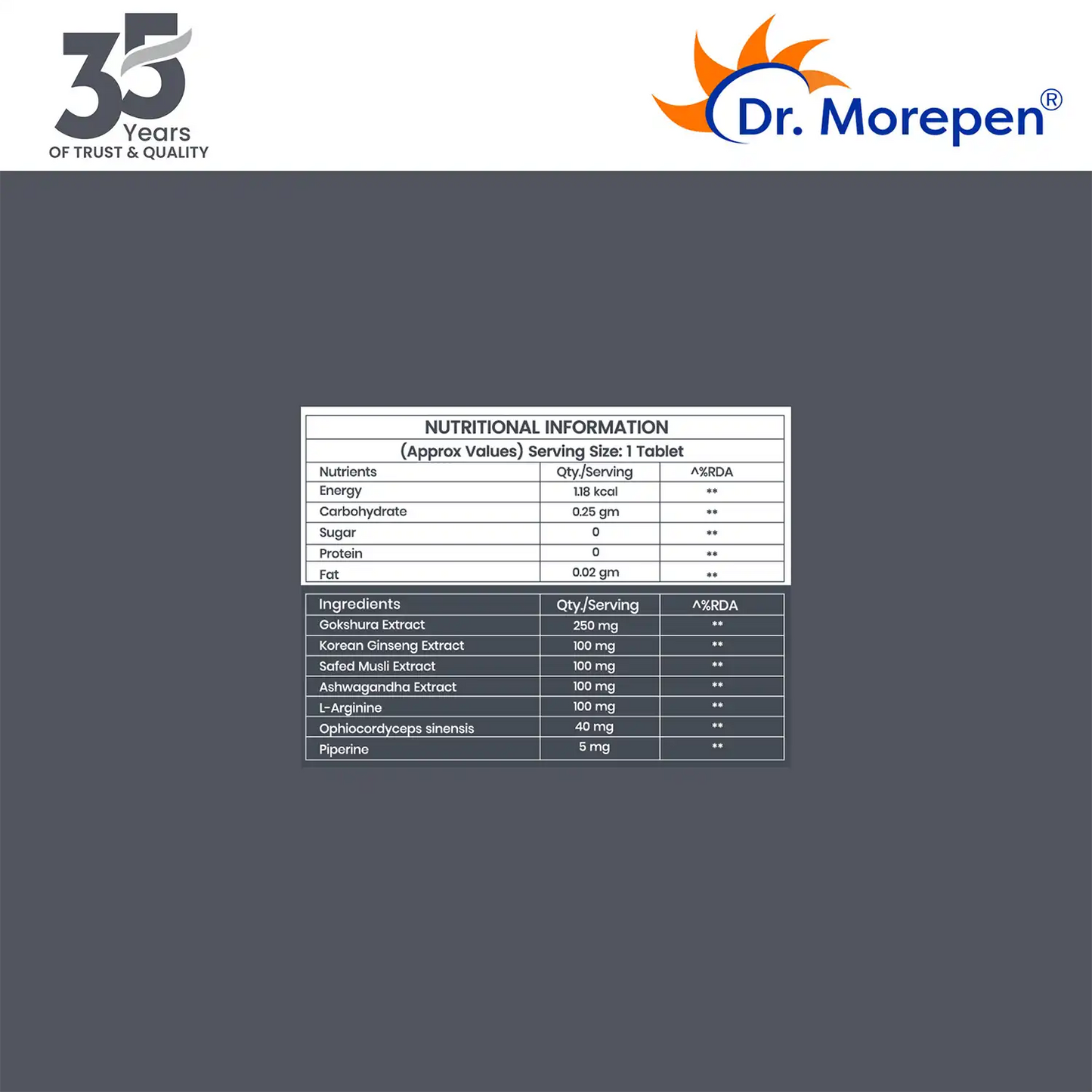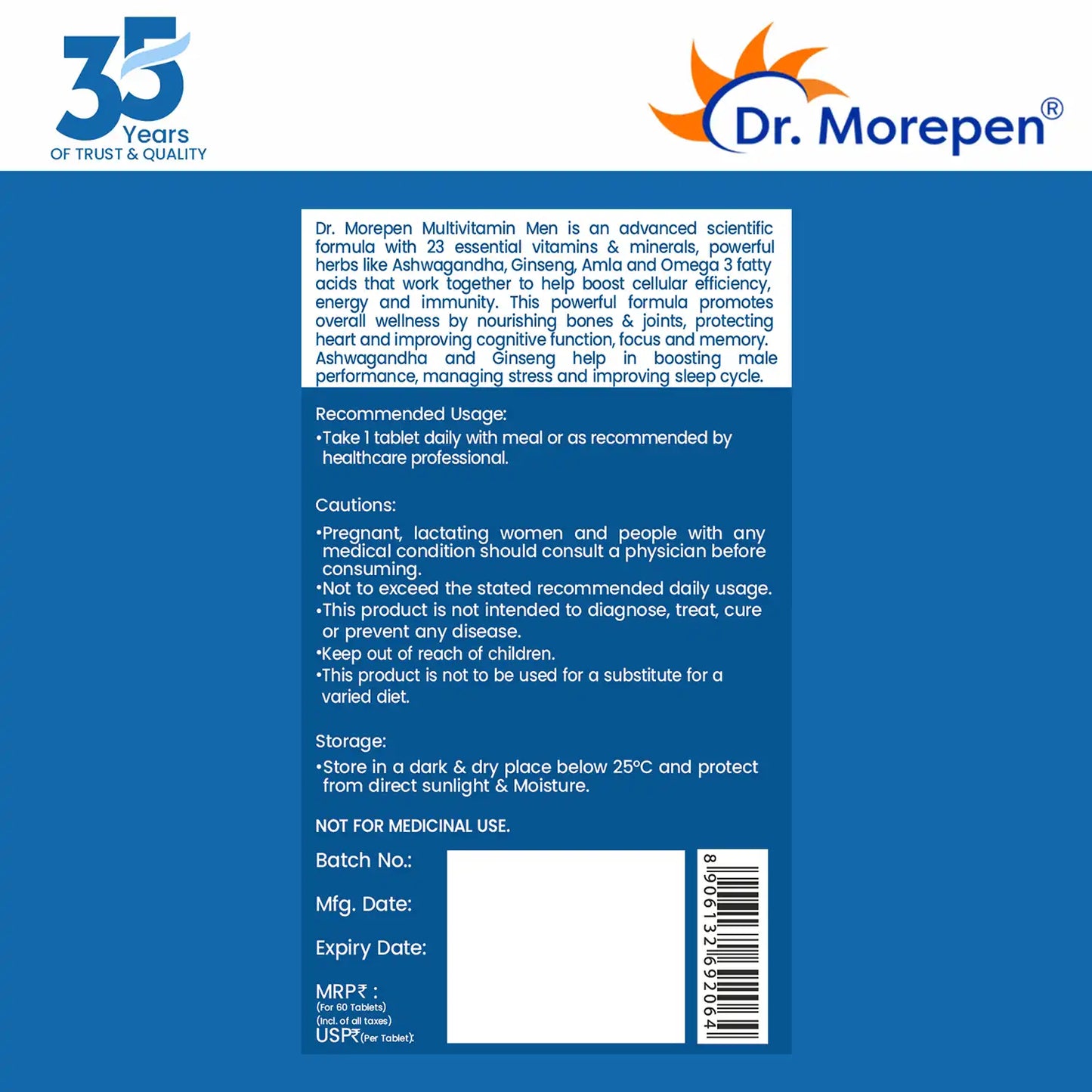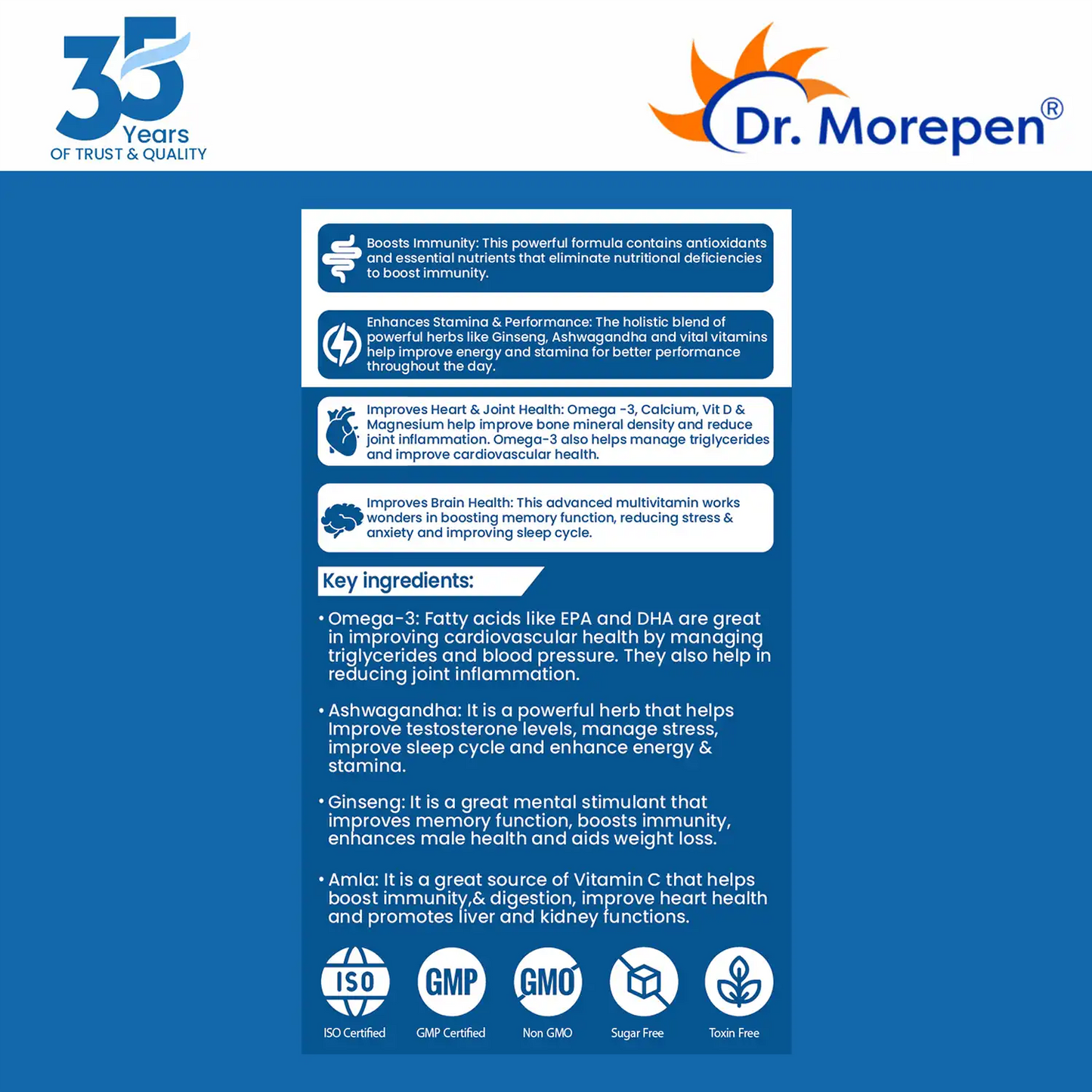 Product Description
Dr. Morepen's Shilajit resin makes a great supplement for all those looking for ways to improve energy & stamina, performance, immunity, and overall health. Our Himalayan Shilajit resin comes enriched with over 84 trace minerals, fulvic acid, humic acid, vitamins, and amino acids the human body requires to stay energised and active. Our ultra-pure Shilajit resin is a storehouse of healthful nutrients and makes an ayurvedic endurance enhancer for both men and women.
---
Dr. Morepen's multivitamin men is a scientifically formulated and tested supplement to nourish your body with vital nutrients for optimal energy and health. Our multivitamin supplement for men comes enriched with a blend of over 10 essential vitamins, 12 minerals, Omega-3 fats, 6 potent herbs, Choline, and Inositol to replenish and rejuvenate your body from head to toe. Getting a perfect balance of vitamins, minerals, and amino acids every day is crucial for staying energized, active, and healthy.
Benefits
Testo Boost - IMPROVED STAMINA:
FOR MUSCLE GROWTH:
Multivitamin Men - BONES & MUSCLES:
STAMINA & ENERGY
Multivitamin Men - 1 Tablet a day after meal or as suggested by your Dietician.
Testo Boost - 2 Tablet a day after meal or as suggested by your Dietician.
This product is not intended to Diagnose, Treat, Cure or Prevent Disease
Not to exceed recommended daily dosage
Keep out of reach of Children
Dr. Morepen is a fully-owned subsidiary of Morepen Laboratories. A legacy of 35 years and continuing, Morepen Laboratories has brought some of the most trusted health products to you, recommended by doctors and accredited by international bodies. As a brand, Dr. Morepen has always preached the mantra "Health in Your Hands; with a pure vision of empowering individuals with solutions to take care of their own health and physical & emotional wellbeing.
About Us